Member Retention

10% increase in renewal rate.
33% reduction of direct mail costs.

CHALLENGE:
The Detroit Zoo relies on a membership base with diverse interests to provide a significant portion of its operating budget. Their members include families with young children who join because it's the most economical way to visit frequently. Other members join because they want to support the Zoo's education and conservation initiatives. Recognizing that it costs more to acquire a new member than to retain an existing one, membership renewals are an important focus of the Zoo's membership activity.
Historically about 50% of membership renewals happen at the gate with the other 50% submitted through a response to a direct mail renewal letter. The Zoo had invested in the technology for members to renew online and this channel was much more efficient for processing the membership renewal.
Phoenix Innovate was approached to develop a program for the Zoo that would increase membership renewal rate and drive more members to renew online without any additional spend.

SOLUTION:
We started with a review of all the membership communication touch points and messaging to identify opportunities for stronger engagement with members. To improve the retention rate, members would have to understand the full value of their membership. We knew from experience with other organizations that we would have to educate members about all the benefits their membership provided.
We also knew that we would have to make the communications more relevant to the members. And, we needed to deliver those messages through the channels that members preferred. It was a seismic shift from talking about what mattered to the Zoo to talking about what mattered to the member.
Our analysis indicated that there was opportunity to overhaul a poorly-performing monthly email program into a content-rich membership benefit that would not only serve to educate members but could also cost-efficiently add three touch points for driving renewal response.
We transformed the direct mail renewal letters with personalized content as well, based on audience segments that were organized around the stage in the member's lifecycle with the organization.
Through both channels, we emphasized the option to renew online, which dramatically impacted the cost to process membership renewals and reduced mail costs.
Last, but definitely not least, we tested different mail package formats, different headlines and imagery in mail and email and monitored performance of every element of the program. From the insights we gained and success we achieved in migrating responses to the web, we were able to modify the program, replacing mail packages with cost-efficient postcards for additional cost savings with no decrease in response rate.

RESULTS:
Dramatically increased awareness of membership benefits, creating stronger ties and sense of community among members over a two-year period:
10% increase in renewal rate
25% increase in online renewal response
25% reduction in cost of membership application processing
33% reduction of direct mail costs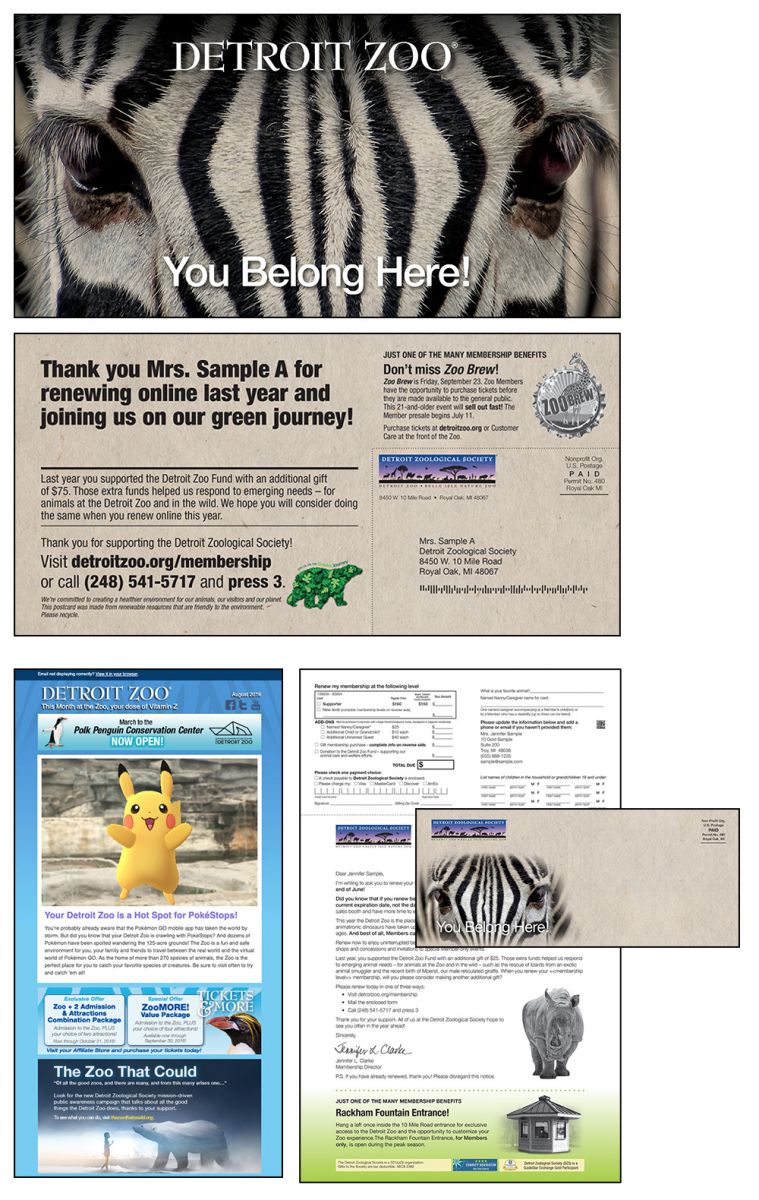 ---