Trade Show Sales

Drove 2,000 visitors to tradeshow booth at NADA.

CHALLENGE:
General Motors Corporation has thousands of dealerships across the country that need to purchase approved tools and equipment to service GM vehicles. GMDE, is GM's preferred service equipment distributor and facility planning consultant.
The National Auto Dealers Association (NADA) conference is an annual event that gives GM an opportunity to interact with its dealership audience. The influencers in the equipment decision process, the service managers and dealer principles, attend this event. GM and GMDE have a shared goal to provide the latest vehicle service equipment to dealers so they can offer cost effective services of the highest quality to consumers. To this end, they were in need of a way to drive traffic to their booth at NADA to generate equipment leads and sales.

SOLUTION:
Standing out at NADA is not an easy task. With over 20,000 attendees and big-budget exhibitors, drawing attention and traffic to your booth requires creativity. Phoenix Innovate developed the multi-channel "Spin to Win" campaign to engage both show attendees and dealership audiences that weren't able to make it to the show. Invitations including a customized poker chip imprinted with the dealership name and their current Tool and Equipment (T&E) credit balance were mailed to 4,000 dealers who had registered to attend the show. The invitation encouraged them to come to the booth to play roulette for a chance to win additional T&E credits redeemable for equipment.
After the show, the contest was converted into a sweepstakes and was continued through email and web channels to give dealers more opportunities to engage with GMDE.

RESULTS:
The personalized invitations drove record traffic to the GMDE booth.
Over 2,000 dealers (50% of GM dealers attending NADA) brought their personalized poker chips to NADA and played the "Spin to Win" roulette game
The roulette table was an attraction of its own, drawing crowds of additional traffic to the booth every time a dealer "spun to win"
The combination of the attention-getting roulette game and marketing effort promoting it resulted in one of the best sales years ever for GMDE at NADA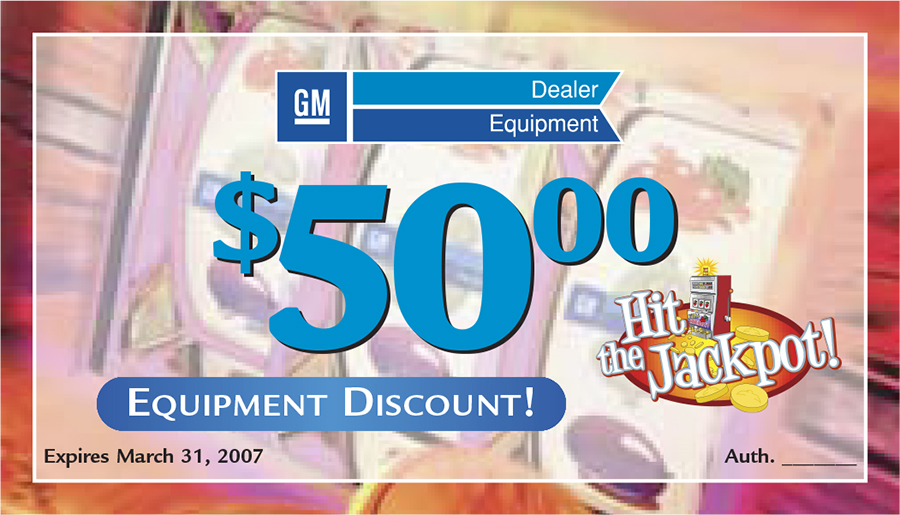 ---