Lead Conversion

44% increase in traffic.
138% increase in B2B sales.

CHALLENGE:
Bosch came to Phoenix Innovate for help in building a more efficient and trackable system for communicating their GMDE brand to the GM dealerships across the country who purchase service equipment and tools from them. At the time, they were mailing quarterly catalogs to advertise products and promotions. It was an expensive approach that had been employed for over 30 years and provided no insights into the sales driven by this effort.
Great changes were taking place across the automotive industry, and particularly at GM with dramatic reductions in the number of dealerships. It was time for GMDE to update their communications and marketing approach.

SOLUTION:
As GMDE's marketing agency partner, Phoenix Innovate possessed in-depth knowledge of the current program and was able to quickly make recommendations.
We recommended the move to a multi-channel program by creating an e-commerce platform which served as the "hub" through which all service product information was posted and updated.
Because products varied widely in price, we created a two-pronged approach to generating sales with lower-cost items being available through a typical e-commerce process, and high-priced items being funneled to GMDE sale representatives as leads through a password protected portion of the site.
We used direct mail, personalized with dealership data points to create awareness and drive traffic to the site. As dealers registered for the website, we created a database of email addresses, adding email campaigns to their marketing mix. Website metrics are used to track visits, measure content and product popularity, product sales and user account activity. We also track search terms and clicks to track effectiveness of all marketing efforts.

RESULTS:
Strong traffic and sales the first year, with a 44% increase in traffic and a 138% increase in sales in the second year for the e-commerce portion of the site alone
The site has generated login accounts, containing email addresses, of over 10,500 dealership members, which created a new channel to market to specific dealer contacts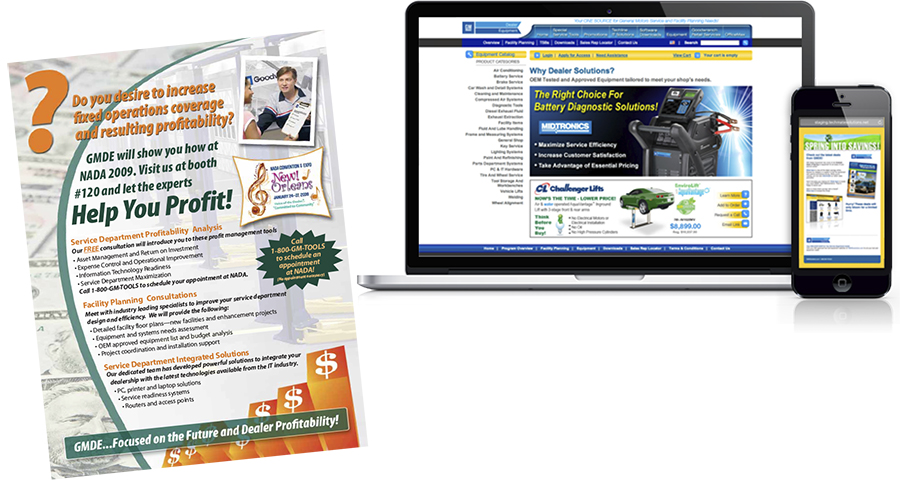 ---