B2B Communications

3,000+ client contacts captured or updated.
1,400 opt-in email addresses added to the database.
$960,000 in savings annually.

CHALLENGE:
BASF's Refinish division produces thousands of factory vehicle paint colors for automotive body shops, and the cabinets to store them in. Every quarter, BASF sends out newly released OEM color chips to the body shops.
BASF paint sales are handled through distributors, providing little direct contact between BASF and the body shops. When a new cabinet was installed at a body shop, BASF relied on the shop to mail back a cabinet registration, so they would know where to send updates. There were two main challenges with this process:
Shops didn't always submit their registrations
Shops would close and BASF would only learn of the closing if the chip update was returned by the post office, at a cost of $50
It was an expensive way to maintain a contact database. With thousands of cabinets installed at body shops nationwide, there was a significant investment in updates with no way to know how many updates were actually needed.
These challenges became more of a concern to BASF when an economic downturn led to an increase in body shop closings and the waste associated with managing the updates was going to increase dramatically.
BASF came to Phoenix Innovate seeking a solution that would:
Help them create a database of body shop contacts that they could manage independent of distributors
Give them more accurate insight into which body shops had cabinets needing updates
Allow them to have a direct relationship with body shops
Be economically efficient

SOLUTION:
Phoenix Innovate worked quickly to establish a cabinet registration process via direct mail with personal URLs (pURLs) that gave BASF client contact information, including email opt-ins, enabling email communication in the future and giving BASF the insight needed to produce and distribute updates only to shops that needed them.

RESULTS:
Over 3,000 client contacts captured or updated, with 45% of contacts providing email addresses
Over 4,800 paint chip cabinets registered
A 40% reduction in quarterly chip updates distributed – saving over $960,000 annually in production and distribution costs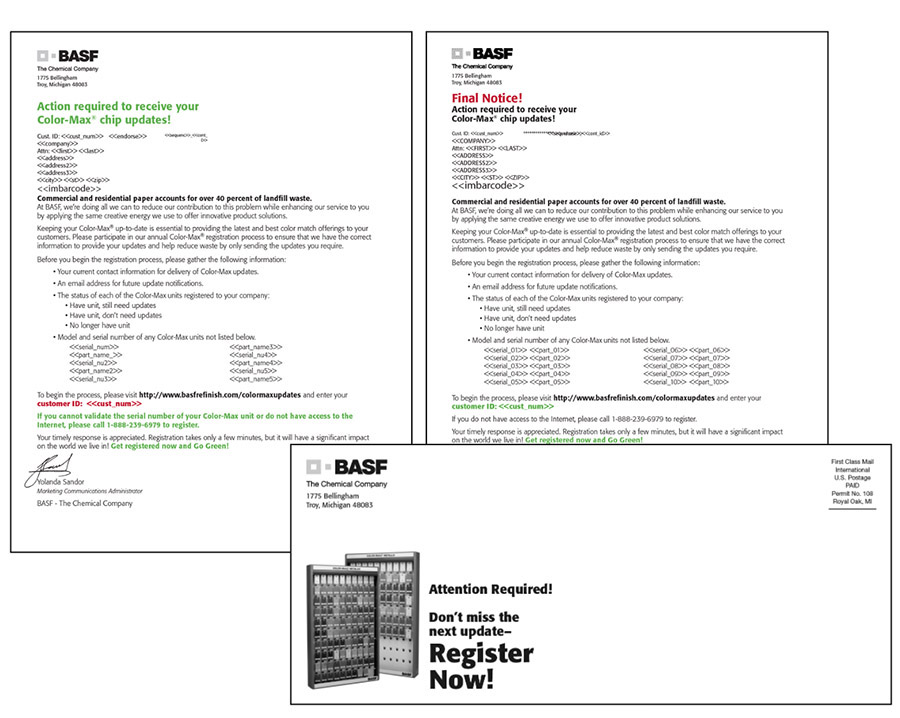 ---