Lead Generation

Increased campus visits 25% year over year.
Met enrollment goals reversing a negative trend.

CHALLENGE:
It's a far-too common scenario: the organization works for weeks or months conducting research or performing an analysis to gain critical insight to improve their business, and falls short when it comes to translating that insight into action.

SOLUTION:
We designed a large-scale research project for Northwood University to provide greater understanding into their prospective students. Presenting the research findings was just the beginning of our work. How to use that information to help the admissions team become more strategic in their approach took us to our next step: the Admissions Action Plan.
Getting in front of high school students with a compelling presentation is a key tactic in Northwood University's lead generation effort. But with more than a thousand public high schools in Michigan alone, it is impossible for the admissions representatives to establish relationships and make presentations at every school. How could we use the insights gained from student research to optimize the admissions team's efforts, leaving them more time to nurture the leads they generated?
Our approach was to use the information we gained in the research about what defines our most-likely-to-enroll student to "score" every public and private high school in Michigan. This score was then used to create a ranked list of every high school in each admissions rep's territory, so reps would know where to spend their time.
Next, we calculated the number of presentations needed to establish "effective reach" within each school and created a month by month guide for which grade of student to be targeting. We also built in a feedback loop for admissions to communicate with marketing when goals could not be met. Now, if admissions cannot gain access to a high school, or can't make as many presentations as recommended, marketing will know with sufficient time to support that geography with other lead generation tactics. Finally, we revamped the admissions presentation to align its message with the relevant points uncovered in the research.

RESULTS:
Several benefits of this strategic approach were noted:
We realized an increase in the percentage of students claiming a "high interest" in Northwood versus same period prior year
Campus visits increased 25% versus year-over-year
Most importantly, Northwood reversed a negative trend in new student enrollments and achieved annual enrollment goals for undergraduate, graduate and adult students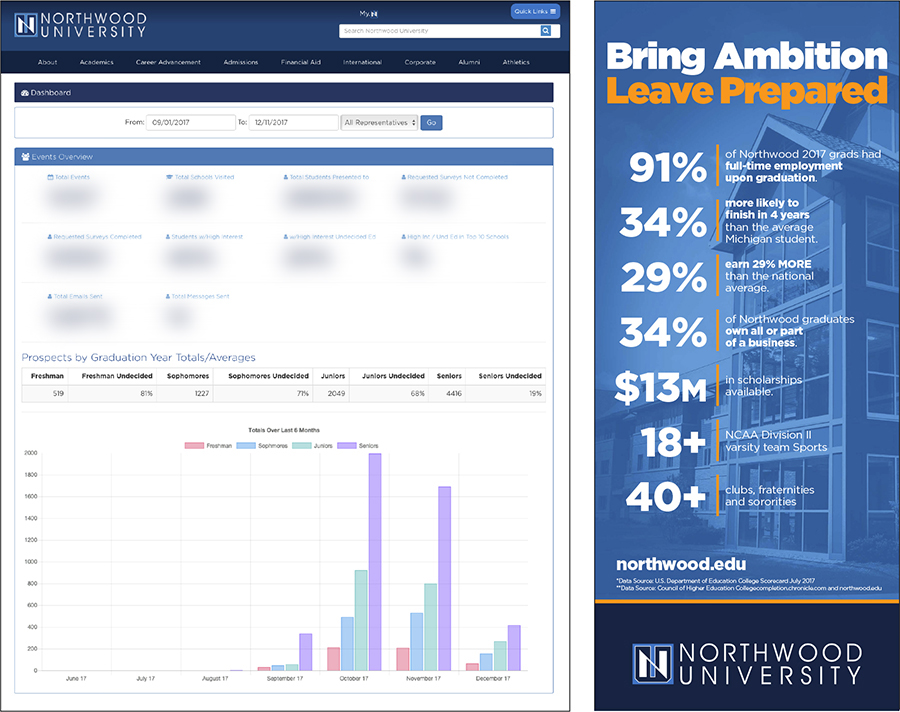 ---